Downtown 5K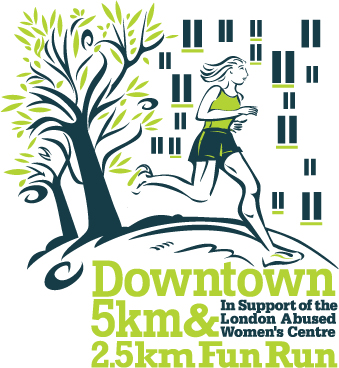 All Pledges from this event will be going to the

London Abused Women's Centre
Our Mission
Statistics Canada reports that 1 in 4 women is abused by her intimate partner.
The London Abused Women's Centre exists to change this situation. The agency does this on an individual basis by providing counselling, advocacy and support to abused women. It also participates in advocacy, public education and research. On a wider level it is working to create a safer environment for women and children by working actively to change the legal, social, and education systems.
The pledges raised from this event will go towards the agency to provide front-line services to abused women.
Help the LAWC by pledging to your favourite runner. Click the link below and click on the runners name that you want to pledge to.
PLEDGE TO YOUR FAVOURITE RUNNER
Pledge Incentives
Help the LAWC by pledging to your favourite runner. Click the link below and click on the runners name that you want to pledge to.
Pledge Form
Race Location
Victoria Park, Downtown London, on Wellington Street.
Friday April 18th, 2014
8:45am - Registration Opens
9:30 am - Kiddy Trot
9:40am - CEO Introduction
9:45 am - CEO 1K Challenge
10:00 am - 2.5K Fun Run/Walk
10:05am - CEO Awards at Victoria Park band shell
10:30 am - 5K Run
11:45am - Awards ceremony, including top individual and Team pledge awards, start at The Honest Lawyers, 228 Dundas St.
Course
A certified, flat and fast 5km. The 5K course is 2 loops of 2.5km around the downtown London area & the 2.5K is just one loop. A water stop is located at the Start/Finish area.
Kiddy Trot This event is about 250 meters in length and is ideal for any child from 1 up to age 12. Parents are allowed to run along side any registered child.
Course measured and certified by Bernie Conway:
5k course certification code ON-2011-053-BDC
Entries
By
March 18, 2014
By
April 15, 2014
LATE
5K Run
$45.00
$50.00
$55.00
2.5K Fun Run/Walk
$35.00
$40.00
$45.00
Kiddy Trot
$5.00
$5.00
$5.00
FREE to anyone handing in $200 in Pledges per person by race morning
For family registrations, you can register in-person as a family for the 5K Run and/or the 2.5K Fun Run/Walk and receive a discount of $10.00 OFF per family member after the first fully paid family member. This is not available online.
Team: Email steveweiler@hotmail.com for a discounted rate for office, school or other teams of 10 or more.
CEO 1K Challenge - Leaders in our community offer pledges and race to the finish to collect the prestigious trophies for first CEO to cross the line and top CEO pledge winner. Contact LAWC at 432-2204 for entry and more information.
Boston Pizza's Team Challenge
The office, school, or other team that collects the largest amount of pledges for the London Abused Women's Centre will be awarded a pizza party at Boston Pizza. All Team members must be registered under the same affiliation and any pledges not done online must be handed in together by the Team Captain.
Pizza party will consist of a maximum of 5 Large pizzas with 3 toppings courtesy of Boston Pizza at the Wellington St location. The party is dine-in only. Not available for Friday or Saturday evenings and must be pre-booked 1 week before the party is to be conducted.
Online Registration
Online Registration - Register here
Silver Team Package (entry to all races) - Register here
Register at Runners' Choice
RUNNERS' CHOICE
207 DUNDAS ST
LONDON ON
N6A 1G4
519-672-5928
Late Registration and Race Kit Pick-Up
Wednesday, April 16th - Late registration and race kit pick-up from 11:00am to 5:00pm &
Thursday, April 17th - from 1:00pm to 7:00pm at RUNNERS' CHOICE.
Friday, April 18th (race day) - from 8:45am till 10:30am at Victoria Park.
Timing Chip Pick-Up
This event will be using timing chips that are attached directly to your bib number. These will be available during all race kit pick-up times.
It is important for event results and series points accuracy, plus a courtesy to other competitors and event organizers, that everyone pick-up their bib (including timing chip) and use only the one that is assigned to them specifically. If anyone knowingly wears another competitors bib/timing chip, both runners will be disqualified from event and series awards.
Cool Stuff
Short-sleeve technical shirts to everyone entered at full price in the 2.5k and 5k by Friday, April 4th.
Event Photographer
Tall Shots photography will be on hand capturing the action and will post a photo gallery on their site after the event. All photographs are available for purchase on the site.
Awards & Points
Open Series points awarded for the 5k only. London Distance Project Kids Series points awarded for both the 5k and 2.5k.
All participants are eligible for DRAW PRIZES; you must be present to win!
There will be NO DUPLICATION OF AWARDS!
Awards will be available at RUNNERS' CHOICE until May 18th, after which, all unclaimed prizes will be recycled. Don't just win a prize, stay for the awards ceremony and claim it.
Awards: 5K Run
Prizes will be awarded as Runners' Choice Gift Cards.
| Open Female and Male | Masters Female and Male |
| --- | --- |
| 1st - $200.00 | 1st - $100.00 |
| 2nd - $150.00 | 2nd - $75.00 |
| 3rd - $100.00 | 3rd - $50.00 |
Main awards ceremony will be at Honest Lawyers on Dundas St starting at 11:45am. Doors open at 11:15am
Saucony merchandise awarded to top-3 in all categories.
5K Course record bonus - Prizes will be awarded as Runners' Choice Gift Cards.
Open - $200
Male - Joseph Nderitu Hamilton 2001 14:16.6
Female - Leslie Sexton London 2013 16:14.6
Masters - $100
Masters Male - Clive Hamilton Kitchener 2001 15:41.6
Masters Female - Janet Takahaski London 1998 18:10.5
Awards: 2.5K Run
Saucony merchandise awarded to top-3 in all categories.
Age Categories
5K Run
(Age as of April 18th, 2014)
8 & Under
9 - 11
12 - 14
15 - 19
20 - 24
25 - 29
30 - 34
35 - 39
40 - 44
45 - 49
50 - 54
55 - 59
60 - 64
65 - 69
70 & Over
2.5K Fun Run
(Age as of April 18th, 2014)
Facilities: Change room and washroom facilities available in the park at the band shell.
Refreshments: Light refreshments will be provided after the race at the park.
Directions & Parking
From the 401, take Wellington Rd north (approximately 10km) Turn left on Queens Ave, one block west to Clarence St. The start is one block north at Victoria Park. Parking is available in several lots within the downtown area, all a short walk from RUNNERS' CHOICE and the START/FINISH area.