Summer Night 5K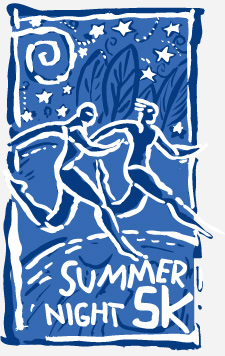 All Pledges from this event will be going to the

The Bereaved Families of Ontario - SW Region
Our Mission
Bereaved Families of Ontario - SW Region was formed in 1984 by a group of bereaved parents and individuals to share their insights and experiences with other grieving families and lend support to them as they restore a balance to their lives following the death of a child.
As an organization we cannot combat the fact that children die. However, we can provide the crucial out reach and emotional support that families need to live through, and eventually overcome, the challenges of their profound grief. We offer a wide range of programs and services to bereaved parents, bereaved brothers, sisters and children who have experienced the death of a parent.
"We are the bereaved helping the bereaved learn to live with grief. When a child or parent dies, we can help the healing begin."
Help the Bereaved Families by pledging to your favourite runner. Click the link below and click on the runner's name that you want to pledge to.
Click here to pledge a participant
Pledge Incentives
Please help the Bereaved Families do more by collecting pledges and handing them in on race day. The top 3 pledge collectors will be given prizes donated by our generous sponsors.
Pledge Form
Race Location
John St. west of Richmond beside the Barking Frog, Downtown London
Friday July 21st, 2017
5:30pm - Registration Opens
6:45pm - 1k Run
7:00pm - Kiddy Trot
7:10pm - 5k Run & Walk
8:15pm - 5k & 1k Awards Ceremony, draw prizes, and top pledge awards
Course
The 5k is a scenic out-and-back loop along Thames River Path System starting and finishing at the Barking Frog.
Click here for the 5k Course Map
Course measured and certified by Bernie Conway:
5k course certification code ON-2011-054-BDC
The 1k starts East of the St. George and John Street intersection, heads West to Talbot, North to Ann, East to St. George, South to John, and East to the Finish.
Kiddy Trot This event is about 150 meters in length and is ideal for any child from 1 up to age 12. Parents are allowed to run along side any registered child.
Entries
By
June 21, 2017
By
July 18, 2017
LATE
5K Run
$40.00
$45.00
$50.00
1K Run
$15.00
$15.00
$20.00
Kiddy Trot
$5.00
$5.00
$5.00
An event glass is are available, for an additional fee during registration, up until July 9th.
FREE entry to anyone handing in $200 in Pledges per person by race morning
For family registrations, you can register in-person as a family for the 5K and receive a discount of $10.00 OFF per family member after the first fully paid family member. This is not available online.
Online Registration
Online Registration - Register here
Register at Runners' Choice
RUNNERS' CHOICE
207 DUNDAS ST
LONDON ON
N6A 1G4
519-672-5928
Late Registration and Race Kit Pick-Up
Thursday, July 20th: from 12:00pm to 7:00pm at RUNNERS' CHOICE.
Friday, July 21st (race day): 5:30 pm till race start at The Barking Frog
Timing Chip Pick-Up
This event will be using timing chips that are attached directly to your bib number. These will be available during all race kit pick-up times.
It is important for event results and series points accuracy, plus a courtesy to other competitors and event organizers, that everyone pick-up their bib (including timing chip) and use only the one that is assigned to them specifically. If anyone knowingly wears another competitors bib/timing chip, both runners will be disqualified from event and series awards.
Awards & Points
Open Series points awarded for the 5k and Kids Series points awarded for the 5k and 1k.
All participants are eligible for DRAW PRIZES; you must be present to win!
There will be NO DUPLICATION OF AWARDS!
Awards will be available at RUNNERS' CHOICE until August 15th, after which, all unclaimed prizes will be recycled. Don't just win a prize, stay for the awards ceremony and claim it.
Prizes will be awarded as Runners' Choice gift cards.
| Open Female and Male | Masters Female and Male |
| --- | --- |
| 1st - $200.00 | 1st - $100.00 |
| 2nd - $150.00 | 2nd - $75.00 |
| 3rd - $100.00 | 3rd - $50.00 |

BROOKS merchandise awarded to top-3 in all listed categories for the 5k and the 1k.
5K Course record bonus - Prizes will be awarded as Runners' Choice Gift Cards
Open - $200
Male - Henry Githuka Milton 2006 14:19
Female - Lauren King London/Toronto 2006 16:29
Masters - $100
Masters Male - Zeljko Sabo Elmira 2008 16:19
Masters Female - Jennifer Ditchfield London 2005 19:05
Age Categories
5K Run (Age on Race Day)
15 & Under
16 - 19
20 - 24
25 - 29
30 - 34
35 - 39
40 - 44
45 - 49
50 - 54
55 - 59
60 - 64
65 - 69
70 & Over
1K Run (Age on Race Day)
9 & Under
10 - 12
13 - 15
Facilities: Washrooms will be available at The Barking Frog. NO SHOWERS will be available.
Refreshments: Light refreshments will be provided after the race.
Directions & Parking
From the 401, take Wellington Rd north (approximately 10km) Turn left on Queens Ave, two blocks west to Richmond St. Right on Richmond st, north 1K to John St. Parking lots close by. John St. will be closed.